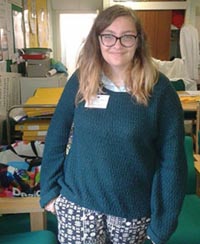 SCoJeC's first volunteer training course has its first graduate: Rachael Henderson from Dundee. The course, which consists of four training sessions followed by a series of placements, aims to help volunteers who represent Judaism in the local community or who would like to do so, by leading synagogue visits, going into schools, or working with youth, adult or interfaith groups. Planned in partnership with experienced volunteers from all over Scotland, and developed by Zoe Jacobs and Fiona Frank for the Glasgow Jewish Representative Council in partnership with SCoJeC, the course focuses on four areas of Jewish life, including the Festivals, Jewish Food, and the Jewish Life Cycle, as well as information about the Religious and Moral Education syllabus in the Curriculum for Excellence, presentation skills, session planning and preparation, and how to be mindful of each faith and  practice at an interfaith event. The placement involves four sessions, often in a school, where the volunteer is able to experience a classroom situation, and, with the help of a mentor, learns to evaluate and improve his or her work.
Rachael's placement took place at Moor Park Primary School in Kilwinning. She said "I really enjoyed taking part in the volunteer training course. When it finished I felt much more confident about being able to talk about different aspects of Jewish life to different groups of people. I was initially nervous about going into the primary school, but by the fourth time, I was able to lead most of the session. I look forward to doing more placements."
The course was created as part of a year-long Voluntary Action Fund partnership cluster project coordinated by SCoJeC, that concluded in March 2015. In addition to training volunteers for the Glasgow Jewish Representative Council and Scottish Jewish Archives Centre, this included a project with Sukkot Shalom, the Edinburgh Liberal Jewish Community, to train volunteers in commmunications and leadership skills, and to support refugees and new migrants in Edinburgh, for example by teaching English and befriending.
Volunteer training sessions were held in Glasgow and in Edinburgh for 25 volunteers from Glasgow, Edinburgh and Tayside & Fife – with one volunteer from Aberdeen joining in by Skype for some of the sessions! Zoe, who coordinated the training, has now been appointed as SCoJeC's Education and Community Development Worker in partnership with Glasgow Jewish Representative Council, and is continuing to work with the trainees and mentors. She said, "I am really excited that our first volunteer has completed the entire course. We have three more volunteers who have started their placement, and we hope more will follow in the autumn. Rachael has been a fantastic contributor to the volunteering group, travelling down from Dundee for each of the training days, and working hard to prepare for the placement. She became more confident with each class we went into, was calm and friendly, and the children easily warmed to her. I hope the training has been a positive experience for her, and that she continues to volunteer in Dundee".
SCoJeC and the Rep Council are planning to run more training courses across Scotland in the autumn. If you would like to attend, or if your school would like a visit from one of our volunteers, please contact Zoe, zoe@scojec.org.