One of the findings of SCoJeC's Being Jewish in Scotland and What's Changed about Being Jewish in Scotland projects was the need for good quality, authoritative, and reliable educational resources about Judaism for use in Scottish schools, and we have been exploring a number of ways we can collaborate with Education Scotland.
The first practical result of our discussions was a "Glow Meet". "Glow" is the online resources provision offered to educational practitioners by Education Scotland, and "Glow Meets" are live on-line meetings between a group of schools and an outside presenter – in this case, us!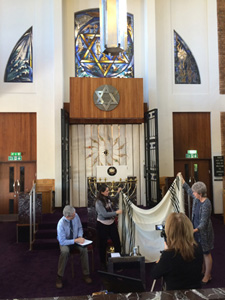 The session was streamed from Giffnock Synagogue, where Zoe Jacobs, SCoJeC's Education and Community Development Worker, and Margalit Borowski, recently retired Head of Jewish Studies at Calderwood Lodge Primary School, faced the cameras, along with Joe Walker, Senior Education Officer for Religious and Moral Education at Education Scotland. After a short introduction by Zoe, producer Jennifer McKay from Education Scotland's Digital Learning and Teaching Programme Team relayed follow-up questions from children at schools around Scotland, on topics ranging from why we wear a kippah and what's our favourite kosher food, to what's good or bad about being Jewish in Scotland.  That's the point of these Glow sessions:  to give middle primary up to early secondary school pupils the opportunity to ask questions their teachers wouldn't be able to answer and often wouldn't dare to ask.
This session was followed by another for teachers, in which Zoe was joined by SCoJeC Director Ephraim Borowski. This time, the focus was more on how to teach Judaism appropriately, what language to use, and how to approach tricky political topics sensitively.
We got instant positive feedback from children and teachers, commenting on how useful the information had been, and how nice it was to be able to speak to someone Jewish in person. We hope to be able to do many more Glow Meets in the future, focusing on different Jewish festivals and life cycle events as they come up.
A video recording of the Glow Meet with pupils is available here, and of the Glow Meet with teachers here.