When Project Worker Fiona Frank visited Aberdeen in January, she took with her the film Growing Up in Scotland, produced in 1990 for the Scottish Jewish Archives Centre, and shortlisted for the Chief Rabbi's Awards for Excellence. It looks at continuity and change in Jewish childhood and adolescence in Scotland during the last 100 years, through the eyes of school children, youth group members, and older members of the community, and it stimulated a lively discussion about the differences and similarities in people's experiences of being Jewish in Scotland today.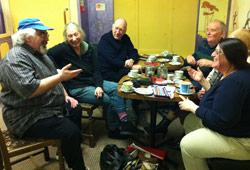 "Seeing the film today made me quite emotional" said one participant. "I do count myself incredibly lucky to be Scottish and Jewish. I wouldn't change either if I had to be born again. My mother comes from a very Jewish family who became secret Jews during the war in occupied Belgium. They superficially converted to Catholicism but kept the Jewish traditions. I was brought up not telling anyone where I was going when I went to synagogue – I had to pretend I was going to the library. It was quite bizarre."
There is a lot of local interest in the community – there were more than 250 visitors to the Synagogue on Open Doors day – and the group was keen to access greater support for local Jewish people who visit schools to talk about Judaism. The group also said they would like more joint events with other Jewish communities visiting from Edinburgh, Dundee, and Glasgow, more cultural activities, and to be able to buy kosher food more easily.
On a later visit to Aberdeen, Fiona brought another film, this time Lies My Father Told Me which had been co-produced by the father of a participant in an Edinburgh Being Jewish in Scotland group! She shared some of the early project findings with the group, and received feedback about which they felt SCoJeC should follow up most strongly.
She also visited Rosehearty where she met a group of local Jewish people who met to celebrate the fact that, although they live forty miles from the nearest synagogue, they still have a strong Jewish identity. They plan to stay in touch with one another and with the Aberdeen Jewish community, where they all attend the Rosh HaShanah and Yom Kippur services.